National Night Out in Norwich brings police, community together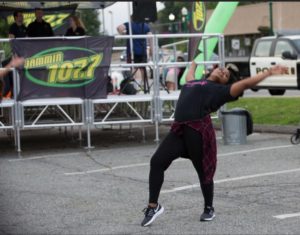 Tiani Gardner, of Dance Express, performs at National Night Out. [Tammy McManaway/For The Bulletin]
By John Barry jbarry@norwichbulletin.com (860) 425-4221
NORWICH — Police and members of the public got a chance to mingle in a fun, friendly setting Tuesday evening when the department hosted its annual National Night Out.
Hundreds of adults and children jammed Howard T. Brown Memorial Park at Norwich Harbor, while police, firefighters, community groups and local businesses did their best to help them enjoy themselves.
Police officers cooked and handed out free hot dogs and hamburgers to all the visitors.
"It's a nice night. We're very pleased," Police Chief Patrick Daley said. "Good community relations are paramount, when you meet the public in a non-police-related situation. It's a win-win."
"This is the fun stuff," said Police Chaplain Adam Bowles, who was helping to blow up balloons. "Handing out balloons to the kids."
One of the most popular attractions was a giant bounce castle containing tunnels, ramps and slides. After emerging, many children ran to wait in line to go through the obstacle course again.
Norwich firefighters Marc Landry, Dennis Blanchard and Nick Matthew manned one of the department's trucks. Children got a chance to look at the fire equipment on the truck and sit on its seat.
"It's always good to bring the community together," Landry said.
At one end of the parking lot, members of the East Great Plain Volunteer Fire Company prepared a demonstration of the jaws of life on a dented old minivan. At the other end, two local businesses, 360 Defense Martial Arts and Dance Express, showed off their members' respective moves.
Other groups at the event included American Ambulance; The William W. Backus Hospital, whose staffers handed out and fitted free bike helmets; Young Marines; Rose City Cross Country; the American Red Cross, which let people sign up to have free smoke detectors installed in their homes; and the Connecticut National Guard, whose tent advertised 100 percent free college scholarships.
"It's a nice opportunity to network with different community activities," said Daphne Doran of the Young Marines.
Shari Lavoie and Holly Ackermen came with three children, Jayce Hatfield, 4, Chantz Kennedy, 5, and Julianna Daniels, 5. The children were happy playing with Norwich Public Utilities' Tilly the Talking Utility Truck.
Lavoie said the group was going to the bounce castle next. "It's a night to get out instead of staying in," she said.
"I'm amazed," said LaRee Johnson, who recently moved to Norwich from New London. "The mood is fabulous. I hope they keep it up."
Among those visiting was Bridgeport Mayor Joe Ganim, who's running for the Democratic Party's nomination for governor. "It's beautiful here," he said.
Friendly, familiar faces celebrate Juneteenth in Norwich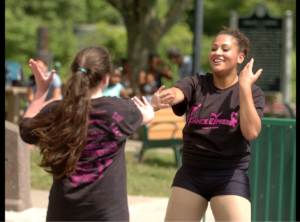 Tali Greener/ NorwichBulletin.com
Jezzamyn Grace, 17, right, and Theresse Weigand-Watkinson, 11, left, perform a dance routine during Juneteenth celebrations at Howard Brown Park in Norwich Saturday, June 18, 2011. The girls are members of Dance Express, a dance studio in Norwich.
Celebration remembers long struggle toward equality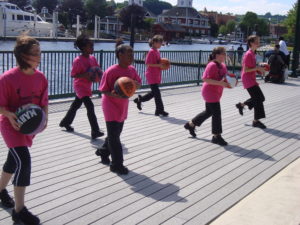 Dance Express Dance Company performs on the wharf for Juneteenth Day.
Norwich, Conn. —
As she enjoyed a purple Sno-cone and dispensed hydration tips to overheated visitors at her tent, Veronica Cook was exactly where she wanted to be on a pleasant Saturday afternoon.
"We're celebrating talent here today, and we've got a little bit of everything," said Cook, who lives in Norwich.
For the 22nd consecutive year, the Norwich Branch of the NAACP hosted a commemoration of Juneteenth at the  Howard T. Brown Memorial Park with music, art vendors, food, street dancers and friendly conversation.
Also known as Freedom Day or Emancipation Day, Juneteenth is the oldest known celebration marking the end of slavery in the United States.
It derives its name from the day when federal troops arrived in Galveston, Texas, on June 19, 1865, to announce that slavery had been repealed  — more than 21⁄2 years after President Abraham Lincoln issued the Emancipation Proclamation outlawing the practice.
Since then, Juneteenth has evolved into a wider celebration of black heritage and culture, though organizers at Saturday's event prefer it be tied to a broader base. Connecticut is one of 36 states to recognize Juneteenth as a holiday.
Regional celebrations
Juneteenth was introduced to the region by Jackie Owens, president of the National Association for the Advancement of Colored People's local chapter. Owens imported it from her native state of Wisconsin, and Norwich became the first city in the state to host Juneteenth activities.
For some at Saturday's event, the light-hearted fare was a somber reminder of the struggle to gain equal footing in society. Participants said the daylong event is a chance to educate people about what Juneteenth means, beyond the cursory look many public schools provide.
"You're definitely not going to get this in school," Cook said.
Her friend, Sarette Williams, agreed.
"It's just another day to remember our ancestors and pass that on to our kids," Williams said.
While the observance is rooted in hardship, the event has become a summertime mainstay, with Dance Express Dance Company dancing on the wharf, people napping on blankets and gathering around informational booths set up around the park.
"You look out here and see different cultures. It's not just a black day. It's a historic day," said Vouise Fonville, a  social worker who lives in Montville. "I wouldn't miss it for the world. I enjoy the history behind it."
Family Day in Norwich blends fun, information
Children learn about ambulances, high-tech police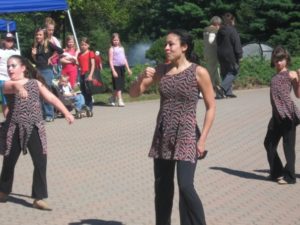 Ryanne O'Connor, 17, front, of Gales Ferry, performs with her Norwich dance troupe, Dance Express, during Family Day at Mohegan Park in Norwich Sunday, September 20, 2009.
By DEBORAH STRASZHEIM
Norwich Bulletin
Posted Sep 20, 2009
Norwich, Conn. — Paramedic Jennifer Wheeler sat in the back of an American Ambulance with four children and asked if they had any questions.
"My mom was in an ambulance once," volunteered Dylan Dionne, 6, of Norwich. "Having my sister."
Sunday was Family Day at Mohegan Park, and hundreds of parents and their children milled through the park, navigating their way through the crowd with balloon hats, swords and at least one balloon octopus. The event offered free entertainment, food and demonstrations by groups such as American Ambulance, who explained how that gigantic bed fits into the back of the ambulance.
The seventh annual event was sponsored by Children First Norwich, the City of Norwich, Norwich Youth & Family Services, Dime Bank and Norwich Public Utilities.
Lawson and Lawrence Langlois, 8 and 9, of Norwich, checked out the inside of the city police department's cyber office on wheels.
The truck had a camera in the back that looked out over the crowd, then displayed the image on a television screen inside.
"It's really cool," the boys said.
Makala Burage, 9, Morgan Intravia, 8, and Theresse Weigand-Watkinson, 9, performed a hip-hop number with Dance Express, then stopped at the "decorate your own cookie" booth and ate cookies.
"It must take a long time to do this," Theresse said, of setting up the event. "I think it's awesome, just being able to hang out here every year."
Shirley Dionne said she has brought her twins, Dylan and Virginia, both 6, for the last couple of years.
That was her in the ambulance, by the way. Her twins were born prematurely, so they took her from Lawrence & Memorial Hospital to Yale, she said. Dylan wouldn't remember, but he's heard the stories.
The kids enjoyed the day at Mohegan Park, she said.
"They've been in just about every vehicle," she said. "(Virginia) got signed up for Girl Scouts and they played with the drums. They've just had a really good time."
Juneteenth Day Celebration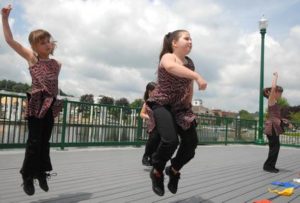 Amber Bennard, 7, left, and Theresse Weigand-Watkinson, 9, right, both of Norwich, perform with their Norwich dance troupe, Dance Express, during Juneteenth Day at the Howard T. Brown Park in downtown Norwich Saturday, June 13, 2009.
Rain Can't Put Damper on Norwich Festival
World Youth Celebration Brings Energy to Salvation Army
By JAMES MOSHER
Norwich Bulletin
Posted May 01, 2009 @ 11:52 PM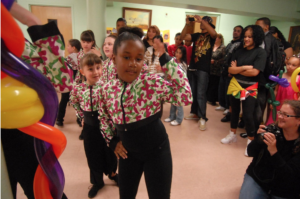 Makala Burage, 9, front, and Amber Bennard, 7, back left, both of Norwich, perform with their Norwich dance troupe, Dance Express, during World Youth Celebration at the Salvation Army in downtown Norwich Friday, May 1, 2009.
Norwich, Conn. —
Norwich's annual World Youth Celebration was held indoors for the first time Friday, but singing, dancing and other arts were as spirited as ever.
"These kids are great," said Debbie Kievits, the event's organizer and coordinator of Bully-Busters. "Just give them a chance and a place to perform and they will."
Because of rain, this year's festival, the fourth annual, was held downstairs in the Salvation Army building on Main Street.
Just yards away the YMCA of Southeastern Connecticut sat in darkness. Some of the performers were affected by Thursday's closing of the 123-year-old YMCA.
"They were practicing at the Y and the American Legion and now both are closed," Sandy Smith of Norwich said of a Cape Verdean dance group called the Estrellas. Her daughters, Shayona, 15, and Niasja, 13, dance with the group.
"They're running out of places to dance," Smith said.
Aaron Hughes, who gave a Tai Chi demonstration with student Zach Barrows, said he'd been teaching at the Y. The relaxation of Tai Chi helps overcome disappointments, he said.
"For thousands of years, Tai Chi has taught self-control," he said. "The purity of the philosophy comes to you through the movements."
The pair brandished swords in the latter part of their exercise. In contrast to Western-style fencing where combatants move away at intervals, Tai Chi swordsmanship is distinguished by its perpetual closeness.
"You can feel the energy of your opponent through the sword," said Barrows, a senior at Norwich Free Academy and founder of its martial arts club.
One could almost feel energy in the Salvation Army walls during the evening's copious song and dance routines. Adrian Gardner, 18, of Norwich, who is known by his stage name "Soulo," got at least two dozen youngsters moving to his original lyrics that blended hip hop, rhythm and blues and rap.
"I love looking into people's eyes when I sing to them," said Gardner, who's been writing songs since he was 14. "That's the best part."
Poetry and speech-making were also part of the program. Amaryllis Rodriguez addressed the perils of teen pregnancy in her Miss Rose of New England community service speech. Another beauty queen, Miss New London County Ashley Memdrino, tap-danced to the well-known pop song "Bleeding Love."
Reflecting on the event's opening routines by Dance Express as well as her own that converted early quiet into smiling festiveness, Memdrino said "Dance always brings out people's spirits."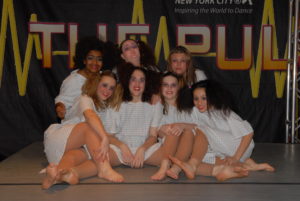 (Above) Their moment on stage. Members of The Dance Express Company performed their piece, "Paranomia," which takes place in an institution for the insane, before an audience of more than 2,000 at "The Pulse," an intensive training weekend in New Jersey. Front row, left to right are: Taylor Falvey, Kimberly Watkinson, Taylor Agee and Ryanne O'Connor. Back row, left to right are: Lillian, Amanda Beauchemin and Jessica Piela. Photo courtesy of Jennifer Weigand-Watkinson.
Local dancers train with celeb choreographers Dancers shared the stage with 'So, you think you can dance' choreographers.
By BRENDA SULLIVAN Staff Writer bsullivan@remindernet.com
NORWICH — Performers such as Alicia Keyes, P-Diddy and Jennifer Lopez have turned to these choreographers to help them shine on stage and in music videos. For one weekend, seven young dancers from The Dance Express Company of Norwich also had a chance to benefit from their talent. Among the choreographers was Mia Michaels, one of the choreographer-judges for the popular TV series, "So, you think you can dance." — "She's a dance goddess," said 19-year-old Kimberly Watkinson from Norwich, one of the Dance Express students who had a chance to work with Mia Michaels.
Another high point of "The Pulse", a two-day conference held in New Jersey, was when three students – Kimberly, Lillian Cook, and Amanda Beauchemin – were hand-picked by Shane Sparks and Laurie Ann Gibson, out of hundreds of other students in the class, to join them on stage for a demonstration of hip-hop choreography.
Gibson is known for her work on the reality series, "Making the Band," and for working on music videos with such stars as Alicia Keyes, the Dixie Chicks and P-Diddy. "We were told that 'Making the Band' [producers] were there, scouting for dancers," said Jennifer Weigand-Watkinson, owner of The Dance Express Company.
The students had worked hard before the conference to raise money to pay their way. They held car washes – sometimes in the rain – held a bake sale, sold handmade Christmas ornaments, and sponsored a pasta dinner for which they cooked, served, performed and then cleaned up. They also have put in many hours as dancers, studying jazz, tap, ballet, hiphop, pointe, lyrical and improvisational techniques. While dance is about movement and expression, it's also about a certain kind of friendship, said 12-year-old Lillian, of Montville. "I like dance because I like to express myself, but also because I like being with other people who like to do the same thing. We can all have different personalities, but we come together and harmonize with each other," Lillian said.
Invited to Summer Dance Fest
Each day at the conference was jammed with classes. "It was dance, dance, dance and a 45-minute break for lunch, then more dance, dance, dance," said 11-year-old Amanda Beauchemin. Amanda added that probably the best part of the experience for her was being able to perform in front of such accomplished choreographers. Unfortunately, workshop particpants were not allowed to take their own photographs of the choreographers.
Classes ran from 8 a.m. until 5 p.m. Still, they said, the girls found a little time for enjoying the experience of staying at a hotel, a bit of shopping, and dinner at the Olive Garden
. The group also included Jessica Piela and Taylor Falvey, and Dance Express faculty Melissa Kocon and Renee Chenette. The students received a "Performance Pick" award for a piece entitled, "Paranomia," danced to the music of The Art of Noise, and were invited to perform again at the Summer Dance Fest 2007 in New York City.
While it was sometimes nervewracking, the whole experience was "thrilling," said 14-year-old Ryanne O'Connor. "It helped my technique, it challenged me. It was a lot of fun." The students also said they enjoyed being exposed to "edgy" styles of hiphop, and other variations on some of the techniques they learned.
Another familiar face at the conference was choreographer Chris Judd, who has moved on to start his own series, "Dirty Dancing." Judd has worked with – and at one time, was married to – Jennifer Lopez.
Rubbing elbows with celebrity choreographers was "a lot of fun," said 12-year-old Taylor Agee, from Sprague, who added that she enjoys dance because it gives her the freedom to open up and express herself.
Their teacher noted that The Dance Express Company is a performance group, as opposed to a company that competes. "They are there to entertain, to make sure that everyone has a good time, whether it's an audience of one, or 100," said Jennifer Weigand-Watkinson.
The company has performed at a number of community events, including the Preston Congregational Church Scarecrow Festival, the Greenville Community Day Celebration, the National Night Out and Multicultural Fair, the Wal-Mart Health Fair, and the Taste of Culture in New London.
The next big trip for the students will be attending the upcoming Dance Educators of America conference.
For more information about The Dance Express Company, call the studio at 886-1555 or visit the Web site at www.DanceExpressLLC.com.
(Below) A shared passion for the dance. The Dance Expresss Company encourages students to explore several styles of dance, and focuses on entertainment instead of competition. Below, some of the company's students (L-R) Amanda Beauchemin, Lillian, Taylor Agee, Kim Watkinson and Ryanne O'Connor. Photo by Brenda Sullivan.